Weight: 7kg - 7.5kg | 7.5kg - 8kg | 8kg - 8.5kg | 8.5kg - 9kg
Organic ham in 4 pieces
Handmade product.
Gluten free, lactose free.
Estimated delivery date:

Correos Express España -

Purchase before

and receive it

Monday, 25 September, 2023

Recogida en tienda en Teruel Capital -

Purchase before

and receive it

Saturday, 23 September, 2023

Packlink Europa -

Purchase before

and receive it

Friday, 29 September, 2023
PRODUCT INFORMATION "Organic ham in 4 pieces"
Healing: 20 months.
Origin: White pig.
Organic ham in 4 pieces.
Weight: 7kg - 7.5kg | 7.5kg - 8kg | 8kg - 8.5kg | 8.5kg - 9kg.
What is organic ham in 4 pieces?
The organic ham in 4 pieces offers a flavor and quality similar to other varieties of ham, but with the advantage of being produced in a more sustainable and environmentally friendly way. Pigs raised in these conditions can develop meat with a characteristic flavor and a juicy texture, thanks to their natural diet and their healthy lifestyle.
The animals have sufficient space for the land does not suffer erosion or contamination by excess manurel. The care in the selection of breeds prioritizes that the animals are adopted to this land, since preventive antibiotic treatments are not applied.
They grow and develop simply, at the pace set by nature and with respect for the necessary time for breastfeeding.
They eat organic fodder and feed that preferably come from the same farm where they live.
They have space outdoors for running and accommodation with large, clean and adequate surfaces.
The dignity and integrity of the animals is guaranteed until the end of their life and, both the transport and the slaughter of the pigs they are carried out according to the strict rules of care and stress reduction.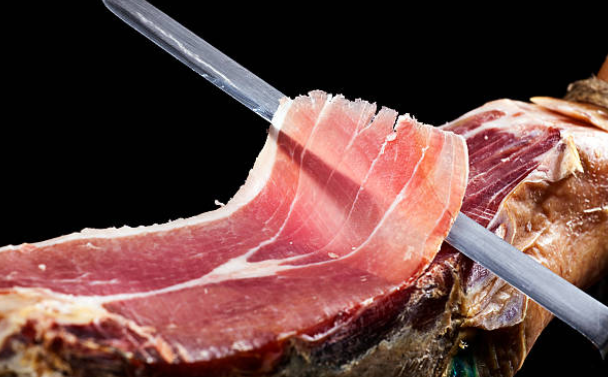 Lactose:

It does not have

Gluten:

It does not have

Type of ham:

Serrano ham

Curing:

More than 20 months

Weight:

7kg - 7,5kg | 7,5kg - 8kg | 8kg - 8,5kg

Breed:

Duroc