Buy Spanish sausages online
Artisan sausages are made with a lot of work and care, to achieve a unique and comparable flavor. These sausages have been made for many years in a conference called Mondongo. These days, they contemplate the slaughter of the pig for the elaboration of said sausages.
Sign up for our newsletter
News, receipes and also, receive the best offers.
The origin of the inlays ismillennial , it is said that they have been known for more than 3000 BC, however, it is not known exactly when it was entered in the Mediterranean diet , it would be from the industrial revolution where the sausages began to be worked more seriously for their later commercialization.
This origin can be predicted thanks to the need to mix ingredients, an effort to achieve new flavors and obviously, give food a longer shelf life.
Although today everything has changed over time, the old essence has never been lost.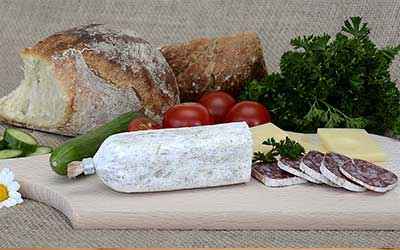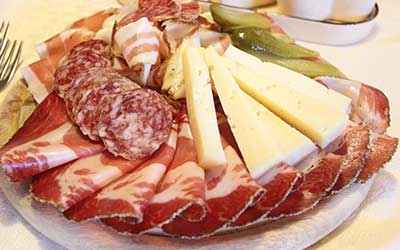 The elaboration of the sausages is very wide: fresh , ripened, dried, cooked, smoked, cured. 
In short, the variety is very wide, in our catalog you can find cured sausages, which usually have between 1 and 2 months of curing. 
These sausages that are, longaniza, fuet, salami, chorizo ​​are combined with lots of spices and seasonings to get other kinds of flavors. 
Among the aspects that are usually combined, the following can be included: spices, truffle, a saffron, field mushrooms and much more.
The Spanish population and those of other countries are very used to eating pork sausages. This consumption has to be done in a rational way, taking into account that excessive consumption is not good. In lunches, lunches, dinners, snacks.
If you wish pairing these products with a wine, we always recommend crianza wines of the red garnacha variety. 
These wines, with a slice of bread with extra virgin olive oil and a little tomato, will make them have a unique flavor.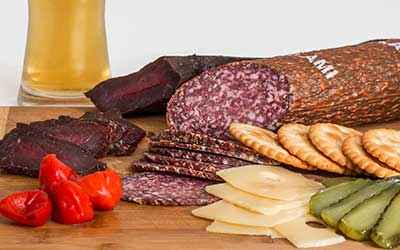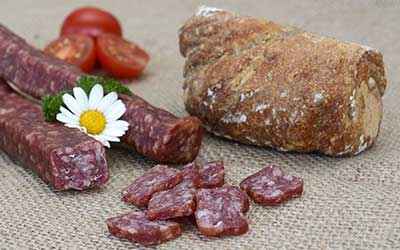 The variety is very wide, since when they are made with different raw materials such as pork, deer meat, wild boar meat and other less-known but also liked meats.
The elaboration and types change depending on where we are.
The typical ones become fuet, chorizo, salchichón and sausage. In other places there is a different type, such as the sausage, the dried sausage.
Each region has its own sausages, which are made in different ways depending on the place.
Our most visited categories