Sliced ​​ham.
Teruel Protected Designation of Origin.
250 grams.
Estimated delivery date:

Correos Express España -

Purchase before

and receive it

Monday, 25 September, 2023

Recogida en tienda en Teruel Capital -

Purchase before

and receive it

Saturday, 23 September, 2023

Packlink Europa -

Purchase before

and receive it

Friday, 29 September, 2023

This product can be bought with COD
PRODUCT INFORMATION "Ham D.O.P Slices 250g"
Healing: 24 months.
Cut: Sliced by machine .
Weight: 250g.
Origin: White pig.
What is sliced teruel ham?
Sliced Teruel Designation of Origin ham is a type belonging to the Protected Designation of Origin (PDO), which means that when making these hams strict and rigorous techniques must be followed so that their production meets the established quality standards. These hams are produced exclusively in the province of Teruel.
The packets of sliced PDO Teruel ham that we sell at Degusta Teruel weigh 250 grams and come from white pigs raised in Cedrillas, Teruel.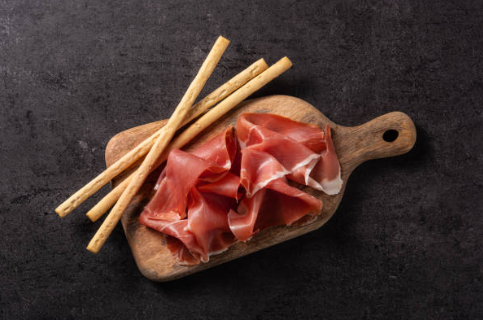 How to preserve sliced ham?
To properly store sliced ham envelopes, you can follow these tips:
Storage: Keep the ham envelopes sliced in the refrigerator to prolong its freshness. Make sure they are sealed tightly or place them in an airtight container to keep out air and moisture.
Temperature: The ideal temperature to preserve the sliced ham is between 1°C and 5°C. Make sure your refrigerator is set to this temperature to keep the ham fresh.
Expiration: Check the expiration date printed on the packets of sliced ham and consume the product before that date to guarantee its quality and safety. Do not eat the sliced ham if the expiration date has passed.
Proper use: When you are going to use the sliced ham, remove it only the amount needed and reseal the envelope or wrap the ham in plastic wrap before returning it to the refrigerator. This will help keep it fresh and prevent it from drying out.
Lactose:

It does not have

Gluten:

It does not have

Sulfitos

It does not have

Type of ham:

Serrano ham

Curing:

More than 24 months

Weight:

250gr

Breed:

Duroc
Customers who bought this product also bought: