Teruel denomination of origin shoulder.
Weight: 4.5 to 5kg.
Teruel Designation of Origin.
Estimated delivery date:

Correos Express España -

Purchase before

and receive it

Tuesday, 12 December, 2023

Recogida en tienda en Teruel Capital -

Purchase before

and receive it

Monday, 11 December, 2023

Packlink Europa -

Purchase before

and receive it

Monday, 18 December, 2023

This product can be bought with COD
PRODUCT INFORMATION "palette from teruel"
Weight: 4.5 to 5kg.
Presentation: Keeps the hoof, an element that helps to better hold it in the ham holder, with its 8-pointed Mudejar star and the word "Teruel" engraved on fire. In addition, it has a numbered band, with the seal of the Teruel Ham and Shoulder Protected Designation of Origin. It is sent packaged inside a mesh, in a cloth bag and placed in a box to facilitate transport.
Ingredients: Salt , antioxidant E-331iii, E301, preservative E-252, sugar, dextrose.
What is Teruel ham shoulder?
The ham shoulder DOP from Teruel is a product with Protected Designation of Origin. The pham wings DOP from Teruel are made from white pigs raised on farms in Teruel. For the ham shoulders to be Denomination of Origin they must meet certain requirements at the time of their preparation.
The part of the pig called the ham shoulder is the front leg of the white pig. The PDO ham shoulder from Teruel is characterized by its elongated and stylized shape, an intense and delicate flavour, a juicy texture thanks to its infiltrated fat and a characteristic aroma.
Our PDO Teruel ham shoulder is a gourmet and quality product which we ship directly from the factory within 24 hours to your home. Buying ham shoulder at Degusta Teruel is always a success.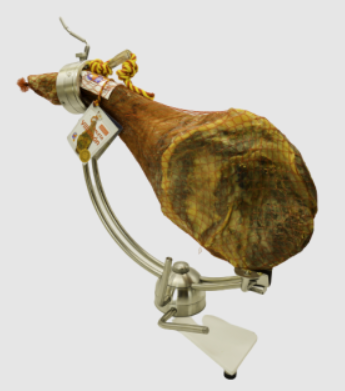 Conservation of the ham shoulder
Once the ham shoulder has been opened, it does not need to be refrigerated for its conservation, simply cover the exposed meat with kitchen film, parchment paper or some other material that does not dry out the ham. We recommend covering the cut with the ham's own fat, held with a wooden toothpick and, if necessary, a cloth or kitchen towel, to also keep the edges moist.
It is preferable facing the prolong its duration for a longer time than the piece is stored in a dry and cool place, preferably dark.
To start a ham shoulder, we must first place and fix the piece in a suitable ham holder, with the hoof facing up. We will begin the cut in the area of the mace.
We must locate a small protrusion called the hock; Two fingers from this, we will make a cut at about 45º that will mark our cutting area. We will clean the part of the ham shoulder of rancid rind and bacon, making sure that there are no remains that could give a bad taste.
It is important that we do not have any yellow fat left as it adds flavors rancid and bitter unwanted. With our ham knife we will begin to remove thin slices from the highest part, these will become progressively longer as the cut progresses.
For a professional finish, the ham must be cut parallel to the femur. In order to enjoy the highest quality ham, the filleting of the ham must be as fine as possible. With this, we will be able to savor and enjoy the best properties of the ham.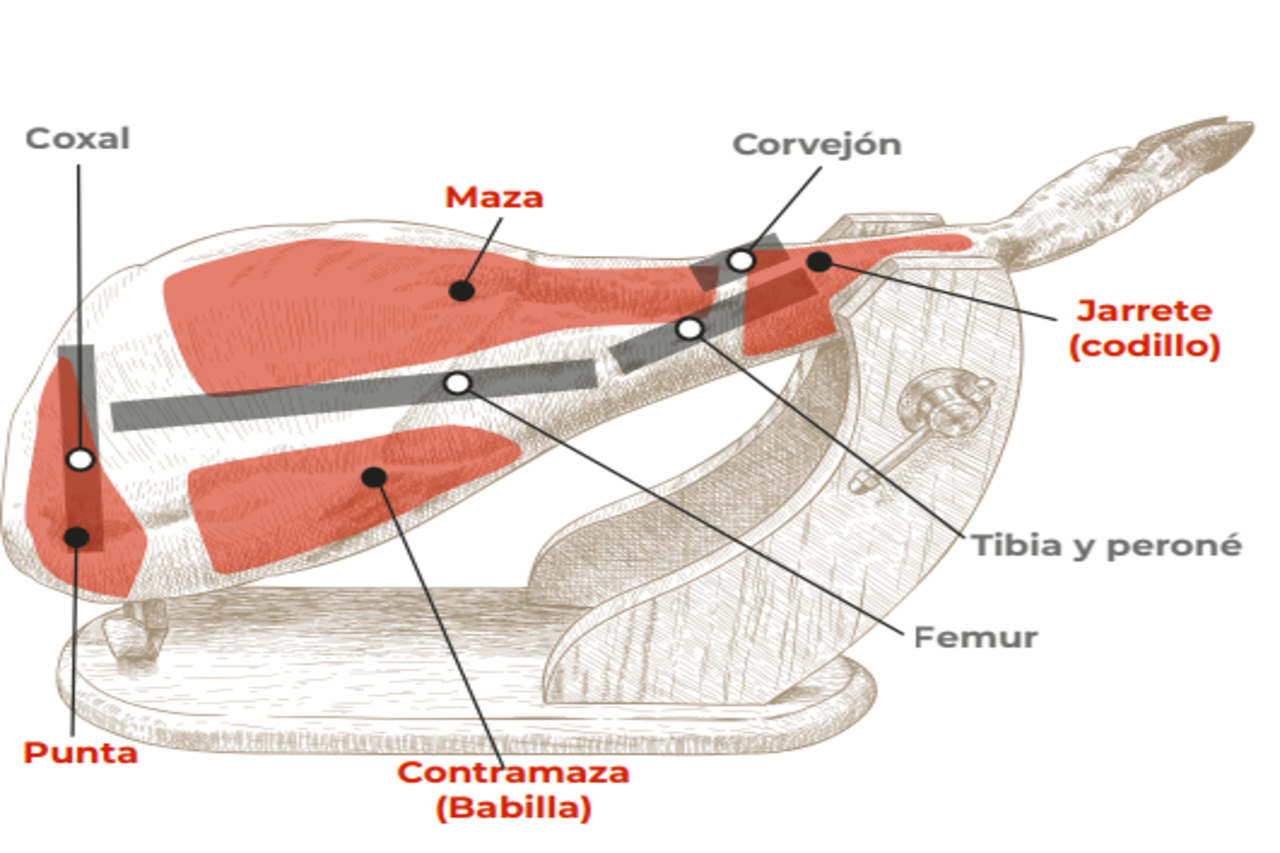 Lactose:

It does not have

Gluten:

It does not have

Sulfitos

It does not have

Type of ham:

Serrano ham

Curing:

More than 20 months

Weight:

4,5kg a 5kg | 5kg a 5,5kg

Breed:

Duroc
Customers who bought this product also bought: