Net weight: 300gr
Made with pork and spices.
Ideal for any aperitif at home, in the country or on the beach.
Estimated delivery date:

Correos Express España -

Purchase before

and receive it

Friday, 8 December, 2023

Recogida en tienda en Teruel Capital -

Purchase before

and receive it

Friday, 8 December, 2023

Packlink Europa -

Purchase before

and receive it

Thursday, 14 December, 2023

This product can be bought with COD
PRODUCT INFORMATION "Spicy Chorizo"
Weight: 250 grams approx.
Format: vacuum packed.
Ingredients: Lean pork and bacon, paprika, salt, spices, dextrose, lactose, sugar, , E452i, trisodium citrate, E316, E621, preservative E252, color E120.
Best before: 1 year from the date of packaging .
Conservation: Store in a cool (7 to 10 degrees) and dry place.
Spicy chorizo is a type of Spanish sausage that is characterized by being highly seasoned and having a spicy flavor. It is made with minced pork and seasoned with a mixture of spices, the combination of these spices gives it its distinctive spicy and aromatic flavor.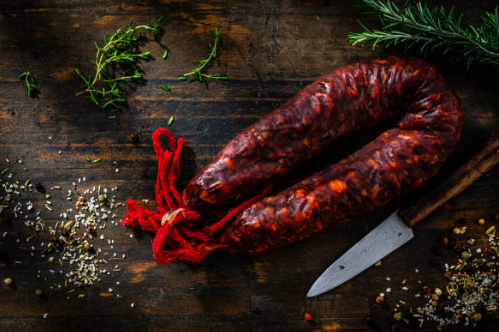 How to consume our spicy chorizo?
Our cured spicy chorizo can be consumed in various ways, either as an ingredient in dishes or as an appetizer. Here are some suggestions:
Appetizer: Cut the spicy chorizo into thin slices and serve as a side of a board of sausages. You can accompany it with cheeses, olives, bread and wine. You can also add it to a tapa, placing a slice of spicy chorizo on a piece of bread and securing it with a toothpick.
Main Dishes: Spicy cured chorizo is an excellent ingredient to flavor main dishes. You can incorporate it into stews, such as the famous "fabada asturiana", which is a stew of fabas (white beans) with chorizo and other sausages.
Snacks: Make a delicious spicy cured chorizo sandwich. Cut the chorizo into slices and place it on a crusty bun along with lettuce, tomato and any other ingredients of your choice. You can add mayonnaise, mustard or some hot sauce to further enhance its flavor.
Cooked: Yes you have a whole cured spicy chorizo, you can cook it. To do this, place it in a pot with water and let it boil for approximately 20-30 minutes. Then, remove it from the water and cut it into slices before serving it. You can accompany it with potatoes, legumes or vegetables.
Remember that cured spicy chorizo is quite intense in flavor and spicy, so you must take into account the tastes and preferences of those who they will consume it. Be sure to adjust the amount according to the degree of spiciness you want in your dishes.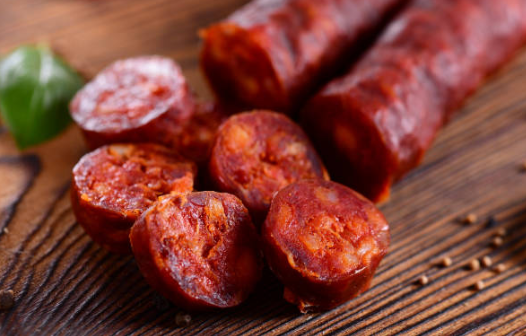 Lactose:

It does not have

Gluten:

It does not have

Sulfitos

It does not have

Type of meat:

Pork

Weight:

300gr

Recommended for:

Appetizers, lunches or vermouth
Customers who bought this product also bought: