Taco of DOP Teruel ham 1kg.
Teruel Designation of Origin.
Ideal for small consumption.
Estimated delivery date:

Correos Express España -

Purchase before

and receive it

Monday, 4 December, 2023

Recogida en tienda en Teruel Capital -

Purchase before

and receive it

Saturday, 2 December, 2023

Packlink Europa -

Purchase before

and receive it

Friday, 8 December, 2023

This product can be bought with COD
PRODUCT INFORMATION "Taco Ham DOP Teruel 1kg"
Presentation: Teruel Ham D.O.P, boned and cut into cubes of 1kg each, individually vacuum packed.
Ingredients: Salt, antioxidant E-331iii, E301, preservative E-252, sugar, dextrose.
What is the PDO ham taco?
The tacos of Teruel DOP ham that we sell at Degusta Teruel weigh around 1 kilo
This ham has the first Protected Designation of Origin Serrano ham from Spain.
They are cured at more than 1300 meters of altitude. They have a natural cure, without forced ventilation, which is known as an open window. This is possible due to the low temperatures that prevail in the province of Teruel. This type of curing means that the hams are not too salty.
If you want to try the best Serrano ham ham, without a doubt, the Degusta Teruel DOP ham tacos are the ideal option to do so.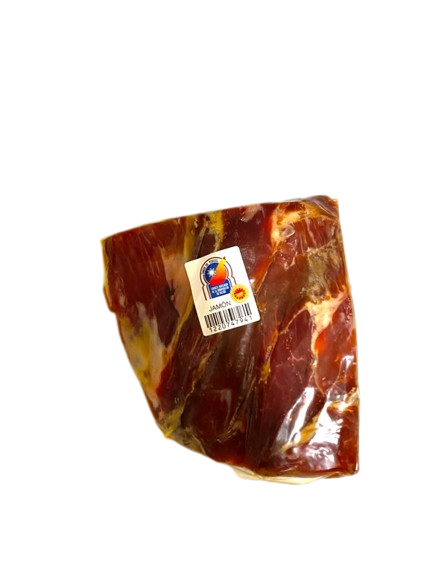 How to preserve the ham tacos?
The ham cube that we sell at Degusta Teruel is vacuum packed, which makes it last longer without altering its flavor or quality.
Our recommendation is to store the ham cube in a refrigerated place, even when the product is closed.
Once we have opened the product and to get the most out of it, we recommend removing the block from the ham 1 hour before it is wrapped. This will make the ham block warm to room temperature, which will make it easier to cut and, above all, its flavor will be more intense. Carry out this procedure every time you want to cut a bit of ham in order to enjoy all the flavor nuances of the ham.
To preserve it once opened, our recommendation is to cover it with the same plastic in which it was wrapped. or, failing that, with transparent film and store in the fridge. With this we prevent the ham block from drying out.
Even so, we recommend that once the ham block is opened, it be consumed within a reasonable time to be able to enjoy it properly.
Of course, here you have several briefly explained recipes with ham cubes:
Ham cubes with scrambled eggs:
1. Heat the ham cubes in a skillet until golden brown.
2. In another skillet, cook scrambled eggs to your liking.
3. Combine the ham cubes with the scrambled eggs.
4. Serve the ham cubes with scrambled eggs and optionally you can add grated cheese or hot sauce.
Garlic ham cubes:
1. Heat the ham cubes in a pan with olive oil.
2. Add minced garlic and stir into the ham cubes until golden brown and fragrant.
3. Serve the garlic ham cubes with a touch of lemon juice and chopped parsley for garnish.
Grilled cheese and ham cubes:
1. Place the ham and cheese cubes between two corn or flour tortillas.
2. Cook the taquitos in a skillet or grill until the cheese is melted and the tortillas are crisp.
3. Serve the Grilled Cheese Ham Taquitos with guacamole, tomato sauce, or sour cream on the side.
Ham Taquitos with Sautéed Vegetables:
1. Heat the ham cubes in a skillet until golden brown.
2. Sauté a variety of vegetables like bell peppers, onion, and zucchini in a skillet with olive oil.
3. Combine the ham cubes with the sautéed vegetables and season with salt, pepper and your favorite seasonings.
4. Serve the ham cubes with sautéed vegetables as a complete dish or as a filling for tortillas.
These are just a few quick recipe ideas with ham cubes. You can experiment and add your own ingredients and seasonings to create new combinations. Enjoy your delicious ham cubes!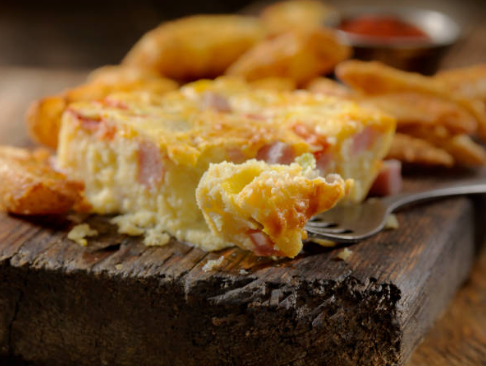 Lactose:

It does not have

Gluten:

It does not have

Sulfitos

It does not have

Type of ham:

Serrano ham

Type of conservation:

Vacuum packed

Curing:

More than 24 months

Weight:

1kg

Breed:

Duroc
Customers who bought this product also bought: