Piece of Serrano ham + Mini Ham Holder
Small kitchen? Lack of space? Few people?
We give you the solution to your problems. Enjoy this product with these features:
Contramaza or tip of Serrano ham 1.5-1.8kg (approx).
Mini ham holder.
Estimated delivery date:

Correos Express España -

Purchase before

and receive it

Friday, 8 December, 2023

Recogida en tienda en Teruel Capital -

Purchase before

and receive it

Friday, 8 December, 2023

Packlink Europa -

Purchase before

and receive it

Thursday, 14 December, 2023

This product can be bought with COD
PRODUCT INFORMATION "Mini cured ham with Mini Jamonero"
Contramaza or punta de ham
Weight: 1,5kg.
Type of ham: Serrano ham.
Cutting board with fixation
Ideal board for counters with ham hammers.
Use: Manageable, easy and comfortable to clean.
Adjustable to the measurement width for different clubs.
Resistance: Light and stable, ideal for cutting small pieces.
The mini ham holder is an ideal helper to assist us in the kitchen. Its size and lightness make it comfortable to have and store anywhere, being able to have it at any time.
What is a mini cured ham?
A contramaza of ham is a piece of meat from the hind leg of the pig, specifically from the part opposite the maza. In other words, it is the portion of meat that remains after removing the mallet from the ham. The contramaza is also known as "babilla" or "back end".
This part of the ham has similar characteristics to the maza, such as its flavor and texture, although it can be a little leaner. The contramaza is highly appreciated in gastronomy and is used to prepare different dishes, such as sausages, stews, sautés or roasts.
This contramaza is made from Serrano ham from Duroc breed pigs, it is cured for 20 months . Thanks to the cold climate of Teruel, these contramazas are cured naturally, that is, in an open window, which means that they are not cured by salting and therefore are low-salt hams.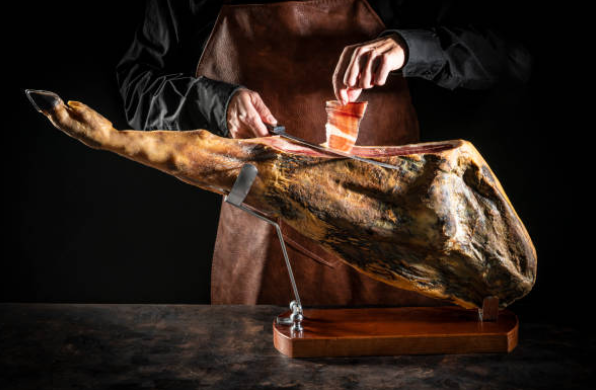 What is a mini ham holder?
A mini-ham holder is a kitchen utensil specifically designed to hold and cut small portions of ham. It is a more compact and smaller version of a conventional ham holder.
The mini ham holder consists of a stable base, a vertical structure or a support where the ham is placed and a system fastening that allows fixing the ham in its position to facilitate cutting.
This utensil is ideal for those who enjoy a smaller ham or for smaller spaces, since it takes up less space than a traditional ham holder. It allows the ham to be held safely and comfortably, thus facilitating cutting into thin and uniform slices.
It is important to mention that, as it is a mini-ham holder, it holding capacity and size are adapted for smaller-sized hams, so it would not be suitable for a standard-sized ham.
Lactose:

It does not have

Gluten:

It does not have

Type of ham:

Serrano ham

Weight:

1,5kg

Breed:

Duroc
Customers who bought this product also bought: