Dried oyster mushrooms.
It is a wild mushroom, with a mild and sweet flavor, which has been collected and delicately dehydrated. So these mushrooms allow us to keep them throughout the year in order to prepare exquisite dishes.
Net weight: 50g
Collected in Teruel.
Estimated delivery date:

Correos Express España -

Purchase before

and receive it

Tuesday, 5 December, 2023

Recogida en tienda en Teruel Capital -

Purchase before

and receive it

Monday, 4 December, 2023

Packlink Europa -

Purchase before

and receive it

Monday, 11 December, 2023

This product can be bought with COD
PRODUCT INFORMATION "Dried oyster mushroom"
Ingredients: Oyster Mushroom (Pleorotus eringii).
Net weight: 50 g.
Nutritive value: Energetic value 30 kCal, Proteins 2.6g, carbohydrates 40g, fat 0.5 of which saturated 0.06g.
Best before: See packaging, (usually 24 months).
Presentation: Heat-sealed plastic tray.
Storage: Cool and dry place.
Use: To make stews with mushrooms, risottos, scrambled eggs...
How to use: Place hot water for 45 min to rehydrate, drain and then use as when used in fresh.
Our favorite recipe "Dried oyster mushroom"
Dried Oyster Mushroom Cream
Ingredients:
1 Cup of dried oyster mushrooms.
4 Cups vegetable broth or mushroom broth.
1 Medium onion, chopped.
2 Garlic cloves, minced.
2 Medium potatoes, peeled and cut into cubes.
1/2 Cup heavy cream (optional).
Olive oil.
Salt and pepper taste.
Chopped fresh parsley for garnish.
Instructions:
1. Rehydrate Dried Oyster Mushrooms: Place mushrooms in a bowl and cover with hot water. Let them soak for at least 30 minutes, until they are soft and have absorbed water.
2. Drain the rehydrated mushrooms and cut them into smaller pieces if necessary.
3. In a large pot, heat a little olive oil over medium heat. Add the chopped onion and garlic and cook until tender and translucent.
4. Add the rehydrated oyster mushrooms to the pot and cook for a few minutes until they are tender and fragrant.
5. Add the diced potatoes to the pot and stir with the mushrooms and onion.
6. Pour the vegetable broth or mushroom broth into the pot, enough to cover the mushrooms and potatoes. Bring the mixture to a boil, then reduce the heat to medium-low. Simmer for about 20-25 minutes, or until the potatoes are tender.
7. Remove the pot from the heat and use a hand blender or stand blender to process the soup until smooth and creamy. If you want a thicker texture, you can leave some pieces of mushrooms and potatoes without blending.
8. Reheat the soup over medium heat and add the heavy cream (optional). Stir well and cook for a few more minutes.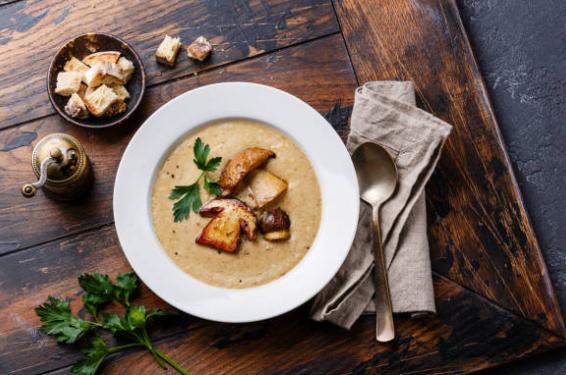 Lactose:

It does not have

Gluten:

It does not have

Sulfitos

It does not have

Quantity:
Customers who bought this product also bought: