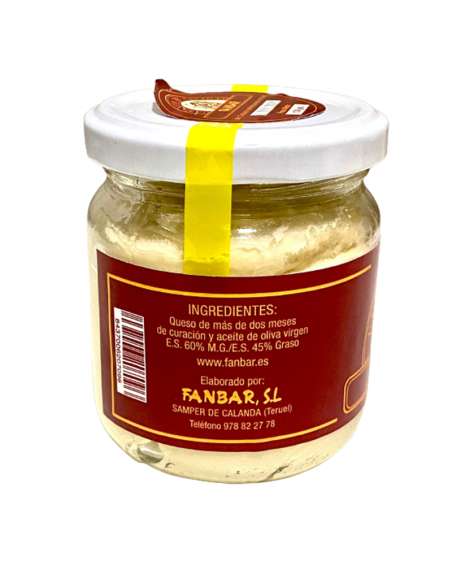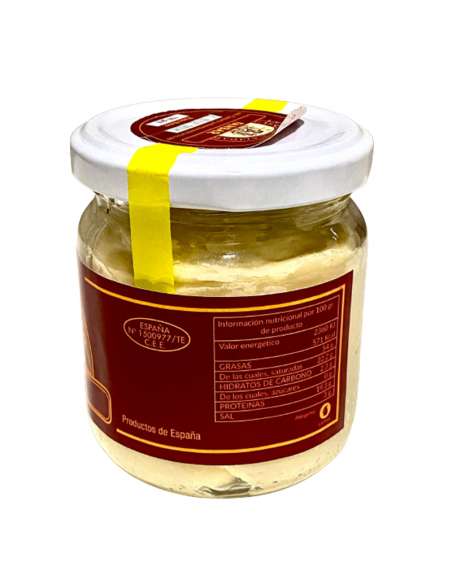 Net weight: 130gr approx
Jar of natural cheese with a strong flavor.
Ideal for toasts or bread spikes.
Estimated delivery date:

Correos Express España -

Purchase before

and receive it

Monday, 11 December, 2023

Packlink Europa -

Purchase before

and receive it

Friday, 15 December, 2023

This product can be bought with COD
PRODUCT INFORMATION "UNTICO CHEESE"
Sanitary registration: 15.00977/TE
Ingredients: cheese aged for more than two months and virgin olive oil E.S. 60% F.G./S.E. 45% Fat.
Net weight: 130 g .
Nutritive value: Energy value 2360KJ/ 571 kCal, Fats 54 g, of which saturated 22.2g, Carbohydrates 2.3g, of which sugars 0 g, Proteins 19.3g, salt 3g.
Best before: See packaging, (usually 3 months)
Presentation: Glass jar
Conservation: Store in the refrigerator.
Use: It is used as a base to accompany pasta, on pizzas, desserts, starters and much more.
The cheese spread is creamy cheese with a soft texture, it is a cheese made from sheep's milk that has been aged for more than two months, as well as containing extra virgin olive oil from the low Aragon.
Although our cheese is made from sheep's milk, it is possible to find spreadable cheeses made with cow's or goat's milk, as well as cheeses with different aromas , flavors or spices.
It is a cheese that can be found in a multitude of shapes and varieties, it is also an ideal cheese for cooking due to the capabilities it offers.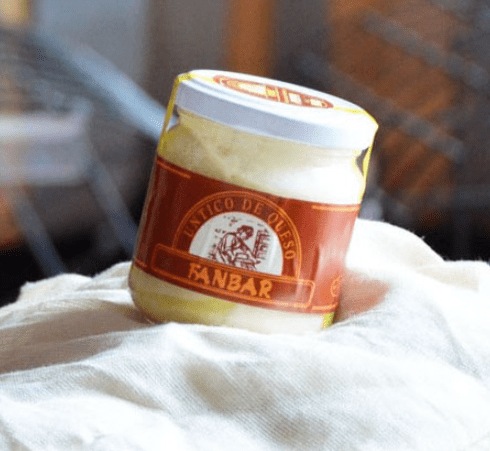 How to use cheese spread in the kitchen?
Cheese spread is a very versatile ingredient in the kitchen and can be used in a variety of ways. Having different ways of using it in the current kitchen.
Some of the ways to use it are the following:
1.- Cheese spread : It is possibly the most used use, combined with other foods such as olive pate, salmon, tomato and many more. Fine cuts of bread are usually used and currently the most widely used are crackers. This type of combination is used mainly for starters.
2.- Combined sauces: The use of Sauces are becoming more and more standardized in our society, these sauces are made from many products. One of the uses of spreadable cheese is making sauces with yogurt, spices, mayonnaise and other condiments.
3.- Meat and fish fillings: Very common in cooking, it is to use cheese as a spread on meat and fish fillings. fish, giving them another flavor that characterizes spreadable cheese.
4.- Desserts: Possibly one of the most common uses from spreadable cheese, desserts are undoubtedly a unique elaboration of the use of this product. The cheesecakes, the fillings and the biscuit toppings among them. This is combined with eggs, sugar, butter and other products.
Lactose:

if it contains

Gluten:

It does not have

Sulfitos

It does not have

Type of cheese:

Cured

Type of milk:

Raw goat milk

Type of conservation:

Vacuum packed

Curing:

6 to 9 months

Weight:

130gr

Recommended for:

Appetizers, lunches or vermouth
Customers who bought this product also bought: