Weight: 1/2kg.
Marinated pork snout.
Ideal for tapas.
Estimated delivery date:

Correos Express España -

Purchase before

and receive it

Friday, 8 December, 2023

Recogida en tienda en Teruel Capital -

Purchase before

and receive it

Friday, 8 December, 2023

Packlink Europa -

Purchase before

and receive it

Thursday, 14 December, 2023

This product can be bought with COD
PRODUCT INFORMATION "Cooked Pork Snout"
Quantity: 1/2 kilos.
Ingredients: Pork snout, salt, spices, garlic and vinegar.
What is cooked pork snout?
The cooked pig's snout comes from the snout or snout of the pig's head. This part is a well-known piece in Spain since with this meat a well-known tapa is made throughout Spain.
When the pork's snout is cooked, it has a gelatinous and soft texture and, depending on how it is cooked, it can adopt a more crunchy texture or continue to maintain that gelatinous texture.
There are preparations that marinade it with different spices to give the pork snout more flavor.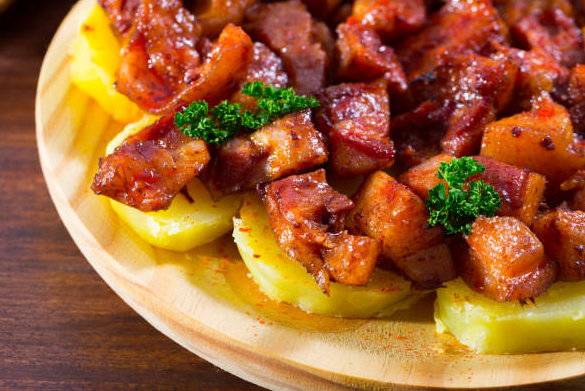 Here are some popular recipes you can make with cooked pork snout:
- Fried pork snout: This traditional recipe consists of frying the previously cooked snout until it has a crunchy texture. Once cooked, remove from the oil, serve and add a little salt. You can vary the point at which the muzzle is crisp by keeping it in the pan for more or less time.
- Pork snout in green sauce: In this recipe, the pork snout is fried and cut into chunks and served in a delicious green sauce based on parsley, garlic, white wine and chicken broth. It can be accompanied with potatoes.
- Pickled pork snout: After cooking the pork snout, it is marinated in a mixture of vinegar, oil, spices and aromatic herbs for several hours and then it is fried. The result is a dish with intense flavors and a smooth texture.
- Pork snout sandwiches: The previously cooked pork snout Fried is cut into thin slices and used to make snacks or sandwiches. You can combine it with potatoes, sauces, etc.
Type of meat:

Pork

Type of conservation:

Vacuum packed

Weight:

Recommended for:

Appetizers, lunches or vermouth
Customers who bought this product also bought: