Ternasco leg chop from Teruel IGP
Weights: 250gr, 500gr, 750gr, 1kg
Ternasco meat from Aragon IGP
Estimated delivery date:

Seur Frío -

Purchase before

and receive it

Monday, 25 September, 2023

This product can be bought with COD
Product information "Ternasco leg chop from Teruel IGP"
The Ternasco de Teruel IGP leg chop is a meat product of high quality and flavor, made with Ternasco de Teruel lamb meat that has been raised and fed under the strict rules of the Ternasco de Teruel Protected Geographical Indication (IGP). Teruel. The leg of Ternasco de Teruel is a tender and juicy meat, which is cut into a chop for sale and consumption. The chop usually has a medium size and a suitable thickness for roasting or grilling. Ternasco de Teruel IGP leg chop is characterized by its soft and delicate flavor, with a tender and juicy texture. In addition, Ternasco meat from Teruel is considered a healthy and nutritious meat, since it is low in saturated fat and rich in high-quality protein. Ternasco de Teruel IGP leg chop is an ideal product for meat lovers, as it offers an authentic flavor and superior quality. It can be prepared in various ways, from a simple grill to more elaborate preparations with sauces and garnishes, being an excellent option for a special dinner or a gastronomic celebration.
Ternasco de Teruel PGI leg chop recipe
Here is a recipe to make grilled lamb leg chops:
Ingredients:
- 4 lamb leg chops.
- Salt and pepper to taste.
- Olive oil (to grease the grill).
Instructions:
Prepare the grill or barbecue and turn it on to medium-high heat.
While the grill is heating up , season the lamb leg chops with salt and pepper on both sides. Be sure to coat the chops well with the spices.
Once the grill is hot, lightly grease it with olive oil to prevent the chops from sticking.
Place the lamb leg chops on the hot grill and cook for about 6-8 minutes on each side, or until well browned and cooked through. Cooking time may vary depending on the thickness of the chops and the intensity of the heat.
During cooking, avoid pressing the chops with a spatula, as this can cause the natural juices to be lost and the come back dry Flip the chops only once, preferably when they have developed a nice golden color on one side.
Once the chops are cooked, remove them from the grill and let them rest for a few minutes before serving. This will allow the juices to redistribute and the chops stay juicy.
You can serve the grilled lamb leg chops with roast potatoes, grilled vegetables or any other garnish of your choice.
Enjoy these delicious grilled lamb leg chops!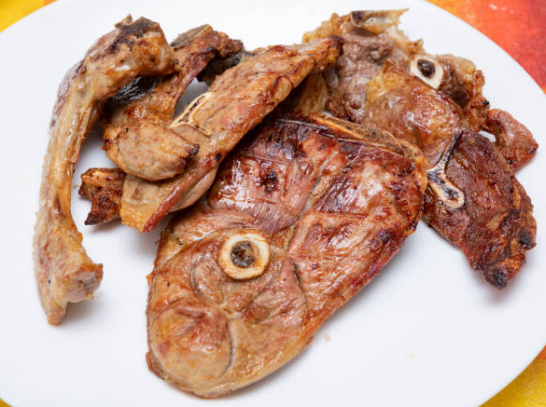 Lactose:

It does not have

Gluten:

It does not have

Sulfitos

It does not have

Type of meat:

Ternasco from Aragon IGP